5 Best New Cryptocurrency to Buy Now October 2021 Week 4
The cryptocurrency market is on the up again. Its overall cap now stands at $2.64 trillion, a 1.7% rise over the past 24 hours, and a new all-time high. Bitcoin (BTC) remains the leader of this charge, with the original cryptocurrency rising by 3.4% in single day. But while it's closing in on its own ATH, some traders may feel priced out of the action. However, a number of fundamentally sound altcoins are still available at discounted prices. As such, we've put together a list of the 5 best new cryptocurrency to buy now. This covers coins that are around a year old or less.
5 Best New Cryptocurrency to Buy Now
1. Polkadot (DOT)
Now just over a year old, DOT is one of the best-performing altcoins at the moment. At $41.61, it's 1.8% up in the past 24 hours, as well as 18% up in the past week. It's also 23% up in the last 30 days.
Despite being on the rise, DOT's relative strength index (in purple above) shows that it still isn't overbought. At the same time, its 30-day moving average (in red) is comfortably above its 200-day average, indicating its current momentum.
The reason for DOT's recent good fortune is simple: parachain auctions. The network's governance structure last week voted in favour of holding such auctions, which will decide which projects get to populate Polkadot's ecosystem. Now, all that's needed is for the motion to be voted for by its community.
Assuming that Polkadot's public does vote through the auction timetable (which it most certainly will), auctions will begin on November 11. Needless to say, once parachains are launched on Polkadot, demand for DOT itself will increase significantly. That's largely because it's used to bond new parachains to Polkadot's central relay chain. And also because it's used for staking and governance, as well as for paying transaction fees.
Referendum 39 is currently up for a community vote, if passed it will schedule the first auction to take place on November 11, 2021 [a little over 26 days]. Reminder for those wishing to take part in auctions, the unbonding period on Polkadot is 28 days.https://t.co/h9E4gNR60M

— Polkadot (@Polkadot) October 15, 2021
2. Axie Infinity (AXS)
AXS has calmed down a little after setting a new ATH of $155.88 two weeks ago. At $121.43, it's down by 1% across the last 24 hours, and basically flat compared to a week ago. It's also down by 22% since setting the aforementioned high.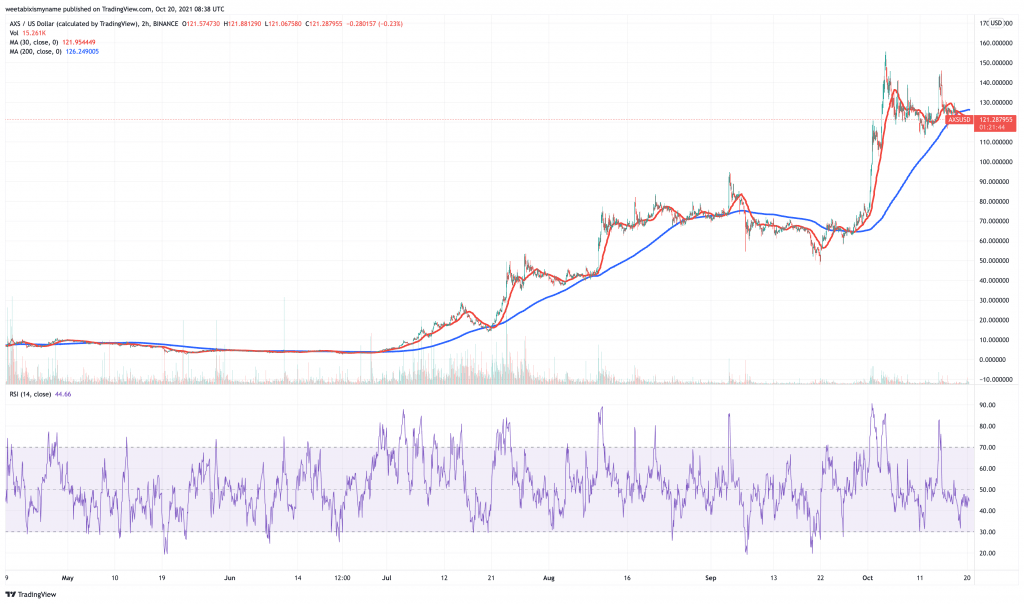 AXS is nearing 'oversold' territory as far as its RSI is concerned, indicating a good time to enter its market. Its 30-day average has also dipped below its 200-day average, signalling a bottom that could be capitalised upon.
Irrespective of its recent correction, AXS remains fundamentally compelling. As the native token of the very popular Axie Infinity NFT-based game, it will continue to encounter high demand. Indeed,
Impressively, the NFT-based game passed $2 billion in total transaction volume to date at the end of last month, as well as $10 million daily volume. Its token went public only as recently as November 2020.
#SalamatAxie
✅ $2B Tx Volume
✅ $10M + Dollars 24H Vol.
✅ Axie Esports
✅ Ronin DEX
✅ AXS Staking
✅ Soulbound Axies (Free-to-Play)
✅ Land Game Play
✅ Software Dev Kit (SDK)
✅ Proven Team
✅ The Most Amazing Community pic.twitter.com/76OG6g3EZT

— Kookoo✨🎮🤝 (@kookoocryptotv) September 29, 2021
Axie Infinity also claims 2.25 million daily active users, having stood at only 61,125 at the end of May. This equals over 3,000% growth in under five months, as well as 11% growth since the start of October.
Investors are paying attention to such impressive stats. Also in October, Andreessen Horowitz led a $150m Series B funding round for the game's developer (Sky Mavis) that valued the firm at $3 billion. This is why AXS is one of the 5 best new cryptocurrency to buy now.
Crypto scoop: NFT game Axie Infinity valued at $3 billion in a new round led by Andreessen Horowitz. The valuation reflects the *tremendous* growth in sales on the multiplayer NFT game. https://t.co/MJkxc5CsQ6 w/@hgmiller29

— Kate Clark (@KateClarkTweets) October 4, 2021
3. Avalanche (AVAX)
AVAX is up by 2.2% in the last 24 hours, rising to $57.08. It's also up by 5% in the last week, although it has declined by 18% in the last 30 days.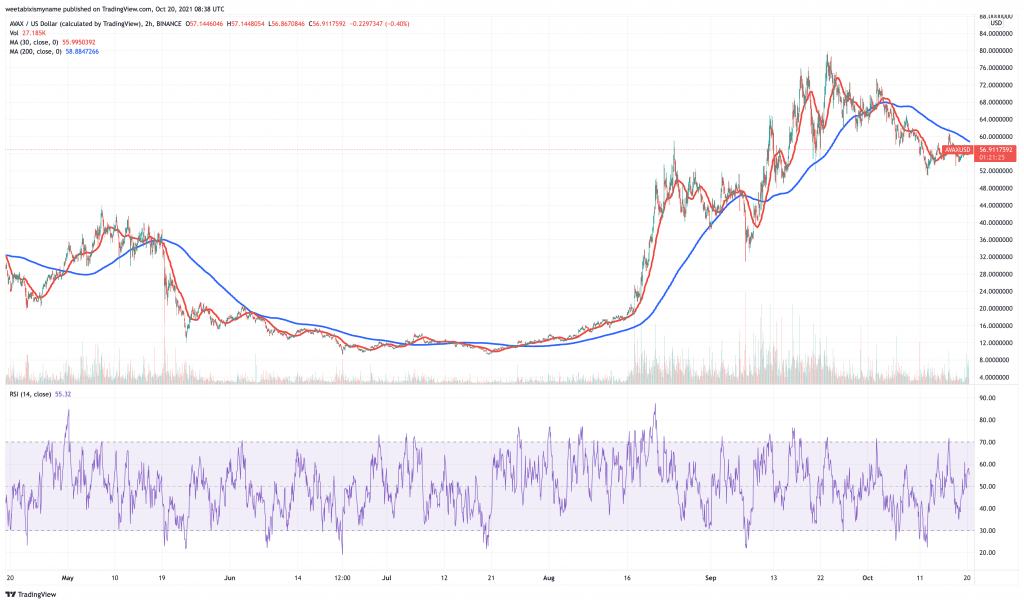 AVAX's technical indicators signal a good time to invest. Its RSI is remains under 60, suggesting plenty of room to enter its market. Likewise, its 30-day average has just begun rising, indicating that it may soon overtake its 200-day average yet again and commence a new upsurge.
As a blockchain platform, Avalanche's total value has risen to $7.08 billion in recent weeks. This figure stood at only $2 billion at the beginning of September, as well as $4 billion at the beginning of October. This indicates some impressive growth.
It's also worth remembering that Avalanche now has big money behind it. In mid-September, Polychain and Three Arrows Capital invested $230 million in the platform, which will now be more able to developer further. Combined with the fact that Avalanche burns the AVAX taken in transaction fees, such investment shows why it's one of the best new cryptocurrency to buy now.
📢 BIG News 📢@Polychaincap and Three Arrows Capital led a $230M investment in the #Avalanche ecosystem to support growth of the platform.https://t.co/T141NFEoIG

— Avalanche 🔺 (@avalancheavax) September 16, 2021
4. Elrond (EGLD)
EGLD is up by 4.2% in the past day. At $236.42, it's flat in the past week, but up by 4.6% in the past month. It has also risen by just over 3,000% in a year.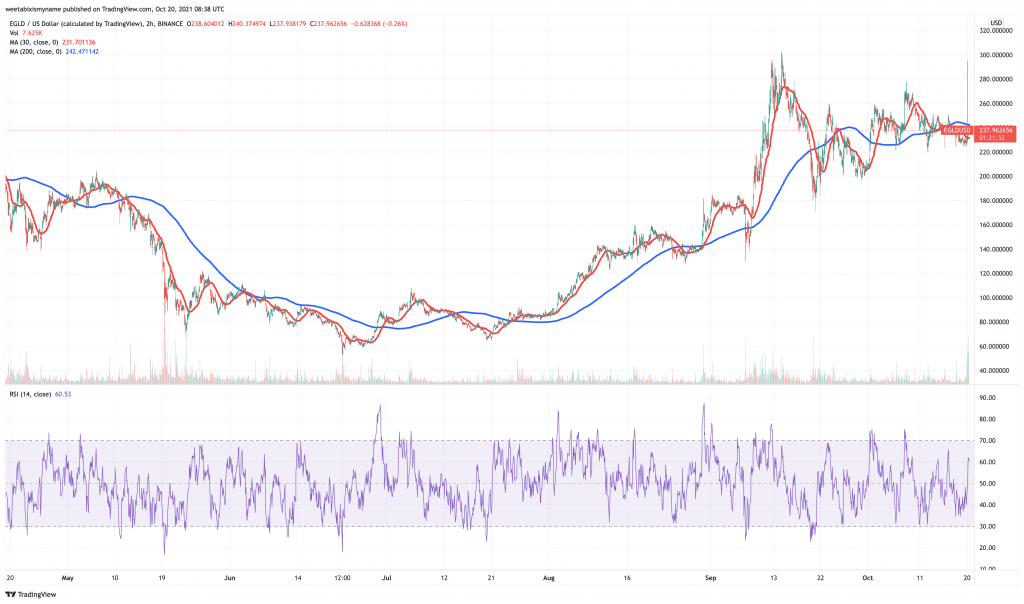 EGLD is another altcoin whose indicators suggest a good time to buy. Its 30-day average is below its 200-day, indicating a bottom. Meanwhile, its RSI sits at around 60, indicating a healthy level of momentum without overheating.
Open to the public market since September 2020, EGLD is the native token of Elrond, another blockchain aiming to provide an internet-scale blockchain. Within Elrond, EGLD is used for network fees, staking and rewarding validators. The maximum supply of EGLD can never pass 31,415,926, something which could make it deflationary, assuming rising and high demand.
Last week, Elrond boasted of processing 8.8 million transactions to date (since launching its mainnet in July 2020) and hosting 820,000 accounts. At the end of September, this stood at 8.4 million transactions and 793,000 accounts.
2/
⚙️ Milestones achieved:
820k accounts • 8,8M transactions • 11,98M staked

Ⓜ Maiar stake statistics:
📥 1.8 Million $EGLD staked
👥 70,000+ people

— Elrond ⚡️ (@ElrondNetwork) October 11, 2021
5. Internet Computer (ICP)
ICP is up by a modest 1% in the past 24 hours, moving to $44.15. It's also up by 2.4% in the last week, yet it remains down by 22% in the past 30 days.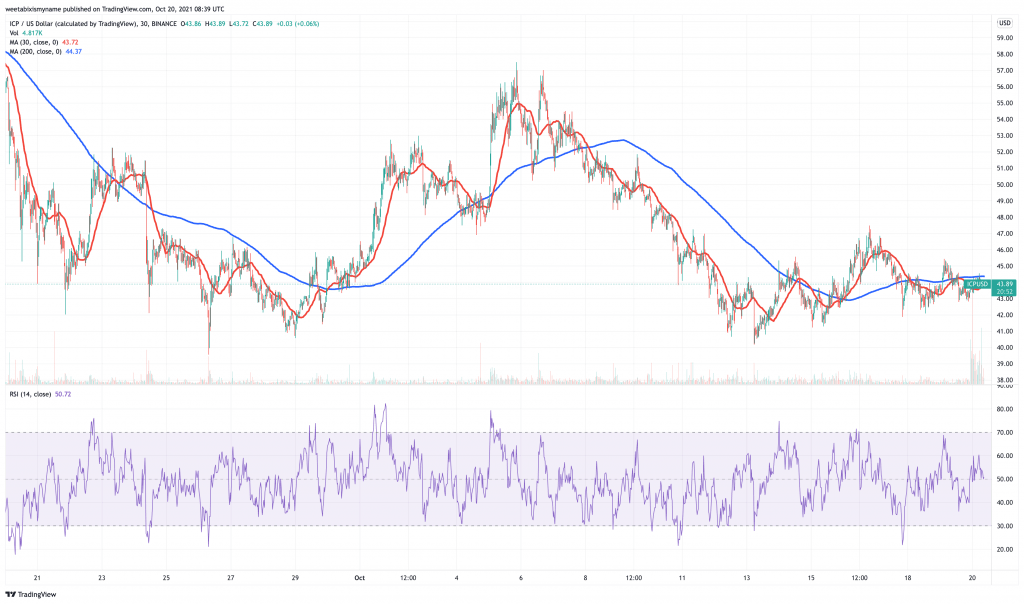 As far as technical indicators go, ICP's 30-day average is below its 200-day. This hints that it may be at the bottom of a recent downturn, and near the beginning of an upturn. On top of this, its RSI (of about 50) suggests there's plenty of room to buy up ICP before it becomes overbought.
ICP rode an upwards wave earlier this month after Facebook went down. By going offline for around six hours (along with Instagram, Messenger and WhatsApp), the social network highlighted the need for an end-to-end decentralised internet. And while ICP's rally following the outage has subsided (for now), the need for something like the Internet Computer remains.
Last week's Slack outage and today's Facebook outage enforce that building humanity's mission-critical software on the decentralized #InternetComputer has never been more urgent.

Apply for a grant: https://t.co/ukqv8Vs8w4
Start building: https://t.co/rfPytIMEUS

— DFINITY Foundation (@dfinity) October 4, 2021
Encouragingly, Internet Computer has continued to expand its network and highlight its potential. This week, it commemorated having generated 264 million blocks since its launch in May. To put this in some perspective, Bitcoin has produced only 705,839 blocks, and it has been operating since January 2009. This suggests some might impressive speed, and shows why ICP is one of our 5 best new cryptocurrency to buy now.
📈This week, the #InternetComputer surpassed 264M blocks generated since Genesis.📈

The block count metric speaks to both the speed and capacity of the #InternetComputer.

Find more live stats: https://t.co/e4FaOV7tnq pic.twitter.com/Jm3WJcUUHj

— DFINITY Foundation (@dfinity) October 18, 2021
67% of retail investor accounts lose money when trading CFDs with this provider
Read more:
How to buy cryptocurrencies
Investing in Avalanche
How to buy NFTs
Buying Polkadot